New £23m addiction research centre opens in Hull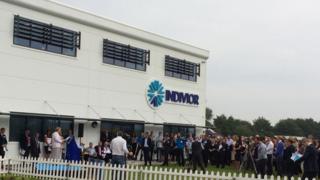 A new research centre has been opened in Hull to develop new treatments for drug addicts.
The £23m unit, based in Priory Park, will initially employ more than 50 people.
Shaun Thaxter, the chief executive of pharmaceutical company Indivior, said it was the largest capital investment in the company's 20 year history.
Mr Thaxter said he hoped the centre would lead to the "development of novel treatment" for opioid addiction.
More on this and other Hull stories
"This is a terrible crisis," he added.
"In America we see that over 100 people a day are dying from opioid overdoses.
"These are people who are in a desperate situation, they have a disease, they need help and they deserve treatment."
The new centre will incorporate solar power and other green technology.