Homecoming parade to celebrate Hull FC's Challenge Cup win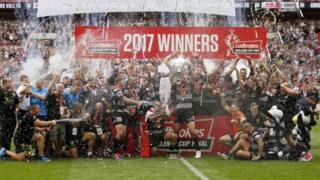 A homecoming parade is to be held to mark Hull FC's victory in retaining the Challenge Cup.
Thousands of fans are expected to descend on the city on Monday to welcome the team's return from Wembley.
Hull FC made club history with a successive Challenge Cup triumph after an 18-14 win against Wigan.
James Clark, the club's executive director, praised the "unbelievable" fans and said their support helped carry the club to victory.
Relive Hull FC's Challenge Cup final win
Mr Clark said: "We're looking forward to coming home and showing the trophy off, it's always a very special occasion and to have that chance to do it with the fans is just brilliant."
Fans are being urged to arrive early ahead of Monday's celebrations, which will see the team travel from KCOM Stadium to Queen Victoria Square on an open top bus.
Organised by the council and Hull FC, the three-hour event will get under way from 12:30 BST.
The open top bus parade will leave the KCOM Stadium at 13.30 BST, travelling past the club's former home in Boulevard, along Hessel Road, Rawling Way and into the centre.
The team will then greet fans on the balcony of Hull City Hall in Queen Victoria Square.
Hull City Council leader Stephen Brady said: "It is always fantastic news for the city when one of our professional sports teams have the opportunity to showcase their top-level skills on a national stage."