Hull FC fans fill city for Challenge Cup victory parade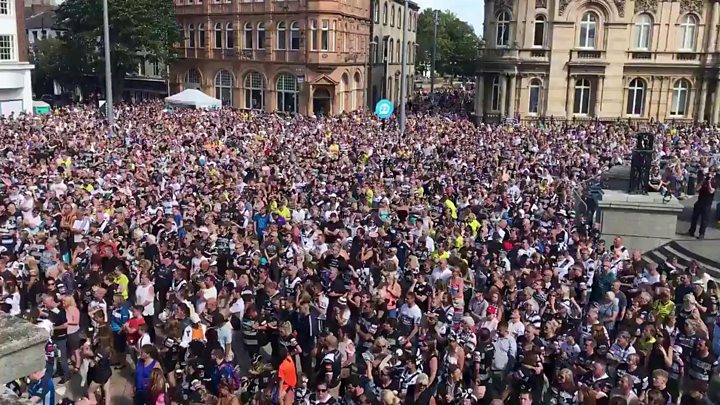 Thousands of black-and-white-clad Hull FC fans have celebrated their team retaining the Challenge Cup.
An open-top bus parade left the KCOM stadium around the city and ended with the players celebrating with fans packed in Queen Victoria Square.
Hull FC made club history with a successive Challenge Cup triumph after an 18-14 win against Wigan on Saturday.
The rugby league team's Danny Washbrook said: "This has probably even surpassed last year's welcome."
Relive Hull FC's Challenge Cup final win
Jake Connor, who played in his first Challenge Cup Final, said it was something "I'll never forget and I definitely want to do it again".
The number of fans welcoming the team back was "surreal", he said.
In a more sombre note he said he planned to put his winners' medal next to his father's ashes and dedicated the win to him.
James Clark, the club's executive director, said: "This is what it is all about - a day to savour for all. Some of these fans have followed us through highs and deep lows".
Sammy Lloyd, a player with the club in the 1970s and 1980s, who has written a special Wembley song, said: "It is a dream come true, it is amazing the fans here always remember you. No other place could put on something like this."
The turnout was estimated at 25,000 people.