Henry VIII's Hull blockhouse to be excavated in new dig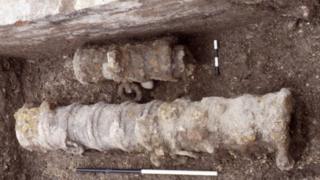 The remains of an 16th Century blockhouse commissioned by Henry VIII as part of the city of Hull's defences are to be partially excavated.
Several trenches are to be opened to uncover some of the South Blockhouse near the confluence of the River Hull and the Humber Estuary.
The scheduled monument was dug in 1997 but Humber Field Archaeology (HFA) said it wants "a new generation" to see it.
The defences were demolished in 1864 but not completely destroyed.
Live updates and more stories from East Yorkshire
Ken Steedman, of the HFA, said it was hoped the remains of the whole building on the east bank of the Hull might eventually be displayed.
However, "finance would be a major impediment" to any attempt to develop the full site.
A blockhouse was built to house guns and to protect the gunners and ammunition from attack. The South Blockhouse in Hull was commissioned by the king in 1541.
It was part of a system of three forts linked by a curtain wall protecting Hull and its port.
The scheduled monument includes remains of the earliest defences built by Henry VIII in the 1540s and some later defences.
South Blockhouse
In February 1542:
Sixty bricklayers were working on the construction
There were also 20 masons, 20 carpenters and 10 plumbers working
About 300 labourers joined 30 lime burners and 30 brick makers supplying materials
The cost of building the fortifications was £23,000 (1543)
Source: HFA
The initial intention of the excavation is to open some of the structure to be viewed during Hull's year-long tenure as the UK's City of Culture.
Mr Steedman said: "We think we have more than 3ft (1m) of walls of a building planned by the most famous monarch in history, Henry VIII."
He said there were four factors that could help make the remains a possible new tourist attraction - the site is not built on, it is close to the Deep aquarium and the city's Old Town, the walls are close to the surface and in good condition.