Cat dumped in bin by girl caught on CCTV in Hull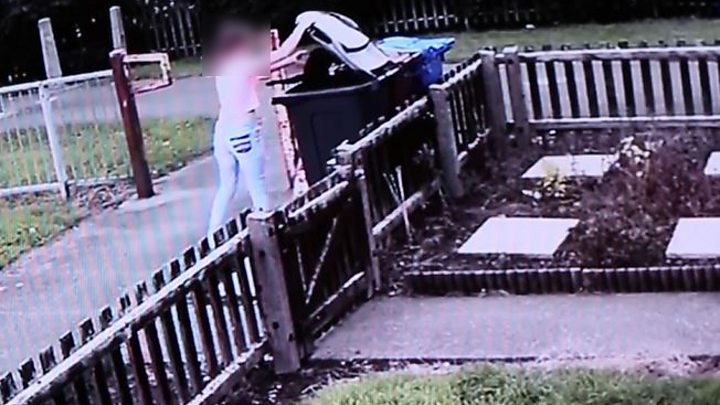 A girl was filmed dumping a cat into a wheelie bin and placing a rubbish bag on the lid to stop the animal escaping.
The footage, first published in the Hull Daily Mail, was captured on Weymouth Close in the city on 17 August and showed the girl returning later to check the bin.
Humberside detectives said a mother took her 12-year-old daughter to a police station on Tuesday.
It is not known if the cat escaped, but it was not in the bin on 18 August.
The RSPCA said it was jointly investigating with police.
More on this and other stories in Hull
A Humberside Police spokesperson said: "Following the video being shown in the local media, the mother of a 12-year-old girl has come into a police station with her daughter to say that she is the girl in the video footage.
"We will be conducting an investigation into the incident as causing unnecessary suffering to an animal under Section 4.1 and Section 4.2 of the Animal Welfare Act 2006.
"We will be speaking to the 12-year-old girl about the incident and establish the best course of action.
"We want to thank the mother for accompanying her daughter into the police station, she has acted very responsibly."
RSPCA Insp David Milborrow said: "The cat has never been found so we're assuming the cat either escaped itself or someone has let the cat out.
"We're hoping the cat managed to escape its ordeal uninjured and has gone back home to its owners."
The bin was seen open on 18 August by the homeowner who found nothing inside, but when she checked her CCTV she saw what had happened.
There were no refuse collections between the time the cat was thrown in the bin and the homeowner checked her CCTV.