Hull City of Culture: Play honours campaigner Lillian Bilocca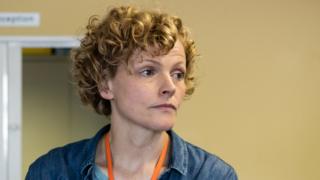 A new play written by actress Maxine Peake is to honour a woman who battled to improve safety on North Sea trawlers.
Hull's Lillian Bilocca, known as Big Lil, led a campaign after three ships sank in 1968 with the loss of 58 lives.
The Hull Truck Theatre show in November is part of the final season of events announced for City of Culture.
The influential art competition The Turner Prize is also to be staged at Ferens Art Gallery.
Live updates and more stories from East Yorkshire
On Wednesday it was announced that the first eight months of the year-long City of Culture tenure had attracted more than one million visits to Hull's art gallery and museums - beating the target by four months.
Hull's heritage will be centre stage when Peake tells the story of Ms Bilocca who, along with Christine Jensen, Mary Denness and Yvonne Blenkinsop, forced new safety measures for the fishing fleet after lobbying the government. The Last Testament of Lillian Bilocca is to run at the Guildhall.
Peake said: "When a woman puts her head above the parapet to help, why does she get punished for it the majority of the time? That's my take on it and that's what the story's about.
"What happened to Lil, what happened to the women, what they were trying to achieve, is still inspirational for where we are politically and socially today."
The Three Girls actress previously wrote an acclaimed play about another formidable woman. Yorkshire's Beryl Burton won seven cycling world titles and set records on her bike that are unbeaten to this day.
Peake has also written about four miners' wives who attempted to save pits from closure by occupying a mine.
Meanwhile, hometown actor Reece Shearsmith, co-creator of the BBC comedy series The League of Gentlemen, will be among the guest speakers at a new weekend-long festival about culture and creativity in December at the University of Hull.
Musical duo Everything But The Girl - Tracey Thorn and Ben Watt, who met at the University of Hull - are also to appear at a several literature festivals along with another Hull hero Mick Woodmansey the drummer with David Bowie's band Spiders from Mars.
Thorn and Watt's band's name was inspired by the title of a shop on Beverley Road, Hull.
Hull Truck Theatre's other new commissions include playwright Tanika Gupta's adaptation of Marina Lewycka's novel, A Short History of Tractors in Ukrainian, which is due to premiere in late September.
The final programme of events is celebrated under the theme of Tell the World and runs from October to the end of the year.