Bottle diggers burned in mustard gas discovery in Roughton Moor Woods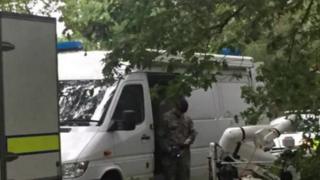 Two people have been treated in hospital for minor burns and respiratory problems after they found mustard gas canisters in Lincolnshire.
Bomb disposal teams were called to Roughton Moor Woods near Woodhall Spa on Sunday.
Police said the devices were discovered by people digging for bottles in the woods.
The area was the former RAF Woodhall Spa base from 1942 until it was closed in the mid 1960s.
Lincolnshire Police said it was "believed the canisters have been in situ since when the site was an operational RAF base".
Part of the wood has been cordoned off and emergency services are searching for any more devices,
The force said that neither victim was seriously injured and they were both discharged from hospital on the same day.
The canisters were taken to the Defence Science and Technology Laboratory at Porton Down, in Wiltshire.
Mustard gas was used during World War One. It was outlawed by the Geneva Protocol of 1925.