Man who stabbed pregnant ex-girlfriend has sentence extended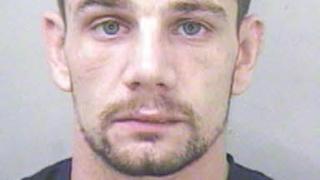 A cage fighter who stabbed his pregnant ex-girlfriend five times in the stomach has had his 19-year jail term extended.
Nicholas Leaning attacked Lauren Oliver when she was seven months pregnant in Belton, Lincolnshire, in 2014.
He was convicted at Hull Crown Court for wounding with intent and attempting to destroy the life of a child.
At the Court of Appeal, Lady Justice Hallett said Leaning must serve an extra 42 days in prison for "wasting" the court's time in pursuing an appeal.
The professional cage fighter attacked Ms Oliver after she refused to have an abortion, the court heard.
Miss Oliver found out he had another long-term partner towards the end of 2013 and challenged him about it.
But he chose to remain with his long-term partner and sent her threatening text messages stating: "I will kick it out of you if I have too" and "get rid of it".
After the attack on 11 June, Miss Oliver was forced to have an emergency caesarean section.
In court, Leaning's lawyers argued that his convictions were "unsafe" and should be overturned.
They also said his jail term was too harsh and should be cut.
Leaning denied inflicting any injury and said he left the scene before she was injured, the court heard.
His legal team said there was fresh witness evidence to support his claim that Miss Oliver was unharmed when he left.
But Lady Justice Hallett, sitting with Mr Justice Turner and Mrs Justice McGowan, rejected the appeal saying the new evidence was "not capable of belief'.
"This was a calculated, pre-meditated and repeated vicious attack with a knife," she said.
"On any view, this was a case which merited a very lengthy sentence of imprisonment."
She said the appeals against the conviction and sentence were "totally without merit".