Calum Gill death: Student died after taking MDMA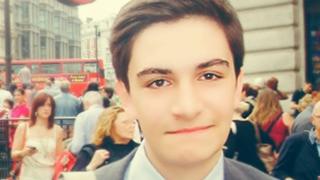 A student who fell ill on the way to a music festival and later died had consumed a fatal level of MDMA, an inquest heard.
Calum Gill, from Sutton Coldfield, near Birmingham, fell ill on the shuttle bus to Radio 1's Big Weekend in Hull on 27 May.
The "intelligent and talented" 21-year-old Hull University student later died in hospital.
Coroner Oliver Longstaff concluded it was death by misadventure.
The inquest heard it was believed to be the first time the Law and European Studies student had taken the class A drug.
Mr Longstaff said: "If one young person hears the event that led to Calum's death before taking drugs, then Calum's death won't be entirely in vain."
A toxicology examination showed he had taken 2,313 milligrams of the drug, along with 60 milligrams of alcohol.
Dr Laszlo Karsai said: "We know from previous data that levels above 1,800 are in the toxic range and anything beyond that level can be fatal."
Two of Mr Gill's friends, who were with him at the time, said he had told them he had put the drug inside red and yellow capsules usually used for paracetamol.
The inquest heard that as the bus approached the festival site at Burton Constable Hall, he fell off his seat and onto the floor.
Witnesses described him as looking grey and his mouth being blue.
Mr Longstaff said he was on the cusp of "a life with the world at his feet".
Mr Gill's family described him as an "intelligent, talented, handsome and loving" son and brother who was about to graduate.
Father Andrew Gill, said: "The tragedy of such unfulfilled potential is hard to bear, especially as he had such a wonderful future ahead of him.
"He was turning into the lovely young man that we had brought him up to be."
Mr Gill said his son was set to take up an offer of teaching English in China.