Government artworks to go on display in Hull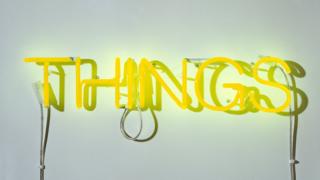 A collection of works by renowned artists is to go on show in Hull as part of the City of Culture celebrations.
Pieces by Grayson Perry, Martin Creed and Cornelia Parker are among those on show at Hull University from Friday.
The Eyeful of Wry works are from the Government Art Collection and are on display at Brynmor Jones Library.
Arts and Tourism Minister John Glen said he was pleased the collection would "open up to new audiences".
The exhibition features 46 pieces based on British political satire, including cartoons from the 18th and 19th Centuries by James Gillray and William Heath, as well as paintings, prints and video by other contemporary artists.
It also includes a new commissioned video piece by artist Peter Liversidge featuring the comedian Phill Jupitus, which is going on show for the first time.
"The exhibition looks at Britain's sense of humour from late 18th Century political satire to contemporary art," said Mr Glen.
"I'm pleased that Hull as our UK City of Culture 2017 will host this exhibition, giving us the opportunity to open up the Government Art Collection to new audiences."
The Government Art Collection holds more than 14,000 works which date from the 16th Century to the present day.
They are usually on display in embassies and other government buildings, including those at Downing Street.
Works by John Constable, William Hogarth and Lucian Freud, all feature in the collection.
The exhibition runs until 26 November 2017.