Ice arena planned for old Hull city centre BHS site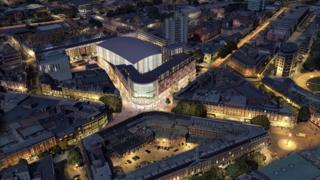 Hull ice arena could move to the former site of the city's BHS shop after the council approved plans to demolish two large city centre buildings.
Hull City Council cabinet agreed to spend £5m to buy and clear the empty Edwin Davis and BHS stores for the Albion Square redevelopment.
Houses, shops and leisure facilities are planned for the site.
The council said the whole redevelopment could take about five years.
More stories from East Yorkshire and Lincolnshire
The BHS and Edwin Davis sites will be demolished to make the area "more attractive" for developers, the council said.
It assured people that the famous Three Ships glass mosaic in the BHS building would be incorporated into the multi-million pound redevelopment.
If no investors come forward to build a new ice arena - which is currently at Kingston Retail Park - the council said it would consider other leisure facilities.
Money to buy the buildings and to get a developer on-board could total around £6m and is likely to come from the Humber local enterprise partnership and other loans.