Humber Bridge engineers celebrate Grade I listing status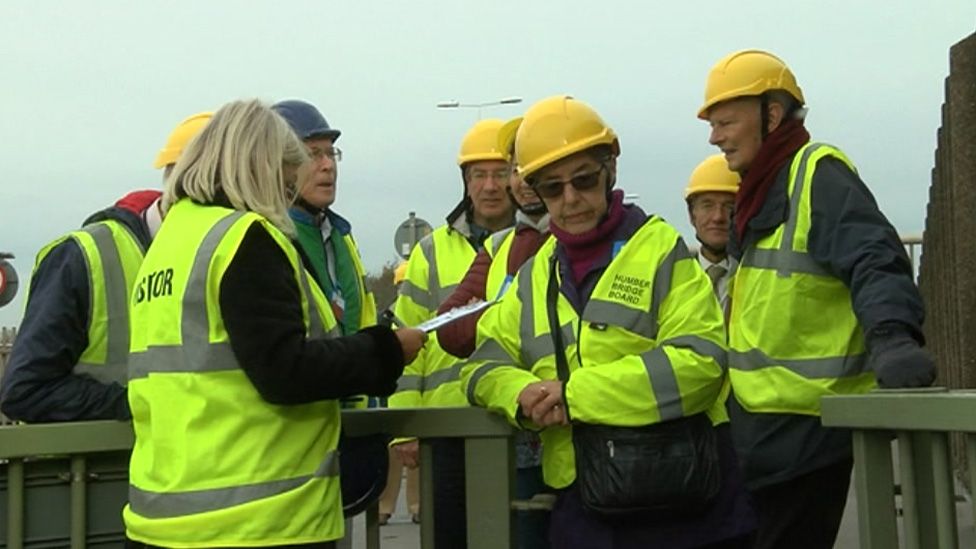 A group of engineers who built the Humber Bridge have returned to celebrate the crossing's Grade I listing.
More than 20 people who worked on the bridge in the 1970s were given a special tour of the towers and other parts of the structure.
Historic England listed the bridge in July on the 36th anniversary of its opening.
Work started on the 1,410 metre-long (4,600ft) bridge in 1973.
After its opening in 1981 it was the world's longest single-span suspension bridge, a position it held for 16 years. It still ranks in the top 10.
Ian Bolton worked on the bridge during the end of its eight year construction as a cable spinner. He helped move more than 70,000 km of wires that support the road deck back and forth between the two towers.
He described the weather as being "the biggest challenge".
"It's a windy place," he said.
"And when you've got moving equipment laying down these small wires and adjusting them to position and that sort of stuff it's quite a challenge."
Nigel Baltrop worked for the bridge designers checking on the work of the contractors.
He said that as part of his job he would sometimes be right at the top of the towers.
"Occasionally I would be doing that with a 155m drop below me," said Mr Baltrop.
"I would actually have a rope and I'd have somebody who was looking after that as if it was a rock climbing exercise.
"But there would be men working next to me who would be standing on the same beam without any protection."
Related Internet Links
The BBC is not responsible for the content of external sites.