Hull's KCOM stadium plaque removal 'disrespectful'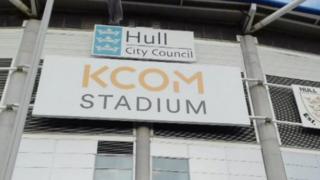 The company which leases Hull City's KCOM stadium has angered council bosses by removing the city's coat of arms from the ground.
SuperStadium Management Company (SMC) also took down a Hull City Council sign without telling the local authority, which is its landlord.
Hull Daily Mail released images of the signs being removed on Thursday.
The council's deputy leader, Darren Hales, said: "We are extremely angry about it."
The BBC has contacted SMC for comment but is yet to receive a reply.
More stories from around East Yorkshire and northern Lincolnshire
The council said it had written to SMC's lawyers asking for the signs to be reinstated as a matter of urgency.
"It is really disrespecting the people of Hull that their emblem has been taken down off the stadium," said Mr Hale.
"Regardless of who you are, or how powerful you are, you should not behave in this way."
This is the latest in a series of disagreements between local officials and SMC.
March 2015 - An artificial pitch was installed at the Airco Arena on the stadium site, preventing groups from using the facility. Legal action by the council was unsuccessful
21 July - Reports of security gate being installed by SMC without obtaining the necessary planning permission
5 October - The company claimed keeping the now gated route open could lead to an act of terrorism - the gate was later forced open by police
13 October - Hull City vice-chairman Ehab Allam accuses ex-council leader Colin Inglis of being childish in calling for the authority to end its deal with the SMC after the company closed a security gate near the stadium, blocking access to Hull Fair
2 November - Reports of signs being removed
SMC is yet to comment on why it took down the signs, or their whereabouts now, but the Hull Daily Mail reported the club's vice-chairman Ehab Allam, who is also a director of the management company, saying "the pirates must have taken them down".
He told the newspaper this was a reference to comments apparently made by ex-council leader Colin Inglis referring to the SMC being "run by pirates".