Egypt drugs case: Briton Laura Plummer's sister issues apology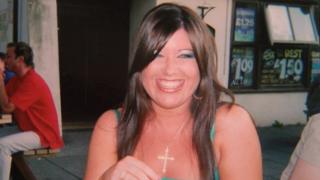 The sister of a British woman facing drug smuggling charges in Egypt has apologised to the country's officials.
Laura Plummer, 33, faces a trial accused of entering the country with 300 Tramadol tablets, a painkiller legal in the UK but not in Egypt.
She is in police custody in Hurghada awaiting a hearing date.
Her sister Rachel told officials she had "unintentionally done wrong" and apologised for "bringing such trouble to your country".
It is not clear whether the apology has been seen by the authorities, who have not commented.
But in response to the apology, Ms Plummer's MP Karl Turner, described her as a "decent, law-abiding" citizen who had "done something really silly".
Ms Plummer, a shop assistant from Hull, claims she was carrying the pills for her Egyptian partner, Omar Caboo, who suffers from back pain.
She has been held in a cell, which she has to share with 25 other women.
In a statement, Rachel said she "would like to place on record our gratitude for the fairness and just manner the Egyptian justice system has shown towards Laura".
"We realise Laura has unintentionally done wrong in the eyes of the Egyptian authorities; a totally innocent action that has resulted in her being held in custody by the police in Hurghada," she said.
"Laura, along with all of us, loves Egypt and upon visits to see Laura we have been happy with the professional and fair way the police officers have been with Laura and we would like to apologise for bringing such trouble to your country."
Other family members have made no further comment.
He said he met Foreign Secretary Boris Johnson last week and was reassured "the government is doing all it can" to support Laura and her family. The UK Foreign Office has not publicly commented.
Ms Plummer said earlier this month she had "no idea" the painkillers she was carrying were banned in the country.
But local police said ignorance of the law was no excuse.
Tramadol is the most abused drug in Egypt, according to Ghada Wali, the country's Minister of Social Solidarity.
Drug smuggling can carry the death sentence in Egypt.