Hull memorial to Spanish Civil War fighters commission sculptor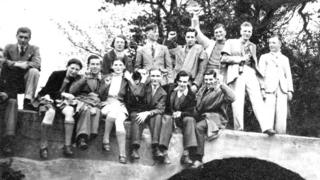 A plan to erect a memorial to eight men from Hull who joined the International Brigade to fight in the Spanish Civil War has commissioned a sculptor.
Thousands of people from Britain and Ireland fought against General Franco's forces between 1936 and 1939.
Dan Jones, a sculptor from South Yorkshire, said: "I want to make it inspirational to the mens' families."
The memorial is planned for the city centre close to Queens Gardens but the actual site has not been revealed.
More stories from East Yorkshire
Four of the Hull men, Jack Atkinson, Jim Bentley, Morris Miller and Robert Wardle, died.
Joe Latus, Richard Mortimer, Sam Walters and Bert Wilson all returned from the conflict.
There is already a commemorative plaque in the city's Guildhall to honour the eight men.
Andrew Young of Hull International Brigades Memorial Group said the new structure would be a "more fitting memorial".
More than £11,000 has already been raised by the group and it plans to unveil the memorial next October, he said.
Mr Jones is looking to source Spanish materials for his work that will have the names of the men embedded in it.
The design of the memorial is not being disclosed until it is unveiled, he said.
Mr Jones said he wanted the design to be "inspirational to the present generation" and it would "commemorate ordinary working man who fought fascism".
He said he had had several design meetings with the families of the eight men over the project.
The International Brigade Memorial Trust said there are already more than 100 memorials in the British Isles to the volunteers and more than 520 were killed in the conflict.
Spanish Civil War
In July 1936, the Spanish military - supported by right-wing nationalists - staged a coup against the elected Republican government backed by most of the left
General Francisco Franco emerged as the main Nationalist leader, as the civil war became a proxy war among European powers
The National Archives files have shown MI5 recorded the names of people suspected of joining the war
Those files included Eric Blair who, as George Orwell, documented his war experiences in Homage to Catalonia
Hundreds of thousands of people died before Franco's Nationalists triumphed in spring 1939.
Sources: National Archives/Britannica