Flamborough washed-up camera to be reunited with boy owner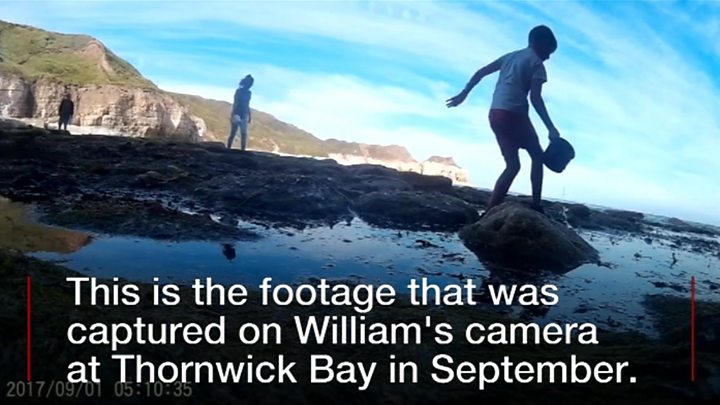 The owner of a camera left on an East Yorkshire beach and then found washed up on a German island has been traced.
William Etherton, 10, lost the device while filming himself and his 12-year-old sister Poppy at Thornwick Bay, near Flamborough Cliffs, in September.
It floated 500 miles away to Suderoog, off the coast of north Germany.
"When I put it on the rock we were seeing who could get a fish first in the tide pools and then I forgot it," said William, who lives near Beverley.
His mother Helen said: "He was upset about coming home and telling me and Mark [husband and William's father] that he'd lost it because it was a Christmas gift off his great-grandad.
"I never thought that in a million years that it would've survived that journey and be able to get the memory card and have such clear pictures from it. It's amazing."
Mrs Etherton said the family were hoping to go to Germany to collect the action camera.
"We want to go there in person to thank the finders," she said.
In a Facebook post, finders Fenja, Nele and Holger, said: "Now there's a happy ending."
"We would like to thank all those who have been so much for this story and search."
The camera was found still working despite its long voyage across the North Sea and the footage was shared on social media where it was spotted by a family friend.
Scenes of Thornwick Bay and the boy playing with his sister were on the memory card, as well as moving images of the North Sea as the camera made its way to Germany.
Upon its discovery, the finders had described the camera as "special flotsam on Süderoog".
Suderoog is a small island, close to the German/Danish border.