Can Hull build on its UK City of Culture status beyond 2017?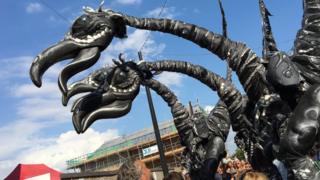 When Hull was announced as the UK's City of Culture for 2017, it triggered a wave of jibes about its cultural and socio-economic credentials. As the year draws to a close can the city build on its "one Hull of a year" and have the last laugh?
Hull is a city out on a limb, sandwiched between the end of a motorway and the North Sea. Until this year it was not generally thought of as a beacon of the arts, or as a tourist destination.
Flick through the pages of the Lonely Planet's 2003 edition guidebook on Great Britain and you will find descriptions such as "a gruff no-nonsense feel" and "lacking in overt charm".
But the latest edition strikes a different note, applauding new attractions such as The Ferens Art Gallery, the historic Old Town district and The Deep aquarium.
"Hull's image has definitely changed," said David Else, travel writer for the tourism tome.
"While Hull isn't quite topping 'must-visit' lists for England just yet, it's definitely seen an increased profile and offers more to visitors than it did a decade ago."
Among those impressed by the city are American brothers Marko and Alex Ayling. Known online as the Vagabrothers, the travel vloggers made a video about Hull for their YouTube channel, which has nearly 500,000 subscribers.
Alex confesses the pair had not previously heard of the city until they were invited by the Visit Britain tourism board.
Unexpectedly, Marko compares Hull's transformation to the Spanish city of Bilbao - where Frank Gehry's Guggenheim Museum kick-started a cultural renaissance - and said it had a similar reputation and industrial aesthetic.
"We didn't have any pre-conceptions when we visited," Alex added.
"It wasn't, like, a bad place to visit. When we published the video there were a lot of comments like 'why would you visit Hull?' and I think as a traveller and a visitor we had a really fun time."
In front of Hull Minster, a series of City of Culture robotic installations aptly titled 'Where Do We Go From Here?' stand proud. It is one of 2,000 or so events and activities that has drawn 3.5m visitors to the port this year.
Across the road, 25-year-old Georgia Allenby sips on her coffee in the cafe next to the 15-bed apartment Hideout Hotel she opened back in August.
She says it has since been fully booked nearly every weekend.
"We've seen a massive increase in footfall just around the Old Town.
"When we first acquired the property you'd maybe get a few people wander past each day but now there's a few each minute really."
Ms Allenby believes too much has happened in the last year for its success to come to an abrupt halt.
"It's going to carry on, it's not going to be a culture hangover next year. What City of Culture has done is get people here.
"People have been staying one night, maybe two nights here and all of them are saying 'that's not long enough' and 'damn, I wish I could stay longer, I need to come back'.
"So I think we will get repeat visitors coming back again and again in the future years."
Echoing her enthusiasm is 58-year-old Jayne Yates, store manager of Yorkshire Linen.
"It's been amazing. Footfall has increased. We've had visitors from out of town who've come to see the events and shopped and then decided to come back shopping again, which I think is absolutely fantastic for Hull."
She added: "I've been the manager for Yorkshire Linen here for 17 years and this is the first year that we've had to take on any extra staff for the Christmas period, so I think that says it all, that we are getting more people through the door."
But not every business in Hull shares the same sentiment.
Standing opposite an empty department store in the heart of Hull's shopping area is 40-year-old independent retailer, Brookes Menswear. It faces the former BHS building emblazoned with "Welcome to Hull UK City of Culture 2017".
Shift your eyes ground-level and your sight is met with rough sleepers in the doorway.
Mark Harris, who took over Brookes 14 years ago, said the celebrations had not brought him any extra custom as many of the events were in the evenings and in a different area of the city.
He added: "When the [Weeping Window] Poppies were here - they were located in our area - them months were pretty good.
"But most of the events are on the other side of town - the Fruit market area - and that's quite a distance from us, as a retailer.
"I think the people who's made money this year from the City of Culture are the food retailers and the hoteliers."
He is holding on to the hope the city council will deliver on its proposal to improve the neighbouring Albion Square and Bond Street areas.
The council's "£250m legacy plan" also includes the regeneration of a dock, refurbishment of the city's Maritime attractions and the continuation of the Culture Company to programme arts and cultural events.
And it is that key word - 'legacy' - which is on every official's lips.
Londonderry, in Northern Ireland, was the first UK City of Culture in 2013. Oonagh McGillion, director of legacy at Derry City & Strabane District Council, said the award brought in new tourism jobs and money from visitors.
"You can tangibly see it in the streets," she said.
"You can see more visitors, you can see more spend in the shops as a result of those increased visitors and you can see a private sector, which is much much more interested in investing in the city and investing in our key regeneration sites."
Dominic Gibbons, managing director of Hull-based property developers Wykeland Group, said: "What's been fantastic is the level of collaboration. There's a feeling of 'one Hull', where you'll find cultural companies talking to private businesses, private businesses talking more to councils and the health services etc.
"There's more discussion between the different sectors, which can drive the city forward.
"I think the biggest part of the legacy that's been left by this year is probably being a more collaborative city, which I think is paramount to the future growth of the economy."
However, one economist thinks differently.
Paul Swinney, from think tank Centre for Cities, says while big cultural activities are "great for boosting civic pride" they "don't and won't change the economy" in the long term.
"If we're thinking of this [City of Culture] being a tool to try improve the economies of places that aren't doing very well then actually that's not really what it's meant to do and it's not really designed to try and achieve that sort of thing.
"I'm sure hoteliers and restaurateurs will definitely have had a positive impact. But what we have to think about in terms of the challenges facing cities like Hull is what are the barriers that are preventing businesses coming in to invest, particularly higher-skilled type businesses?
"And I think the key challenge there is skills."
When Liverpool became European Capital of Culture in 2008, visitor figures increased by 34% generating £754m for the local economy, which has "grown from £2bn to £4bn in the eight years after", said Phil Redmond, chairman of the UK City of Culture panel and the Institute of Cultural Capital.
The Grange Hill, Brookside and Hollyoaks creator led Liverpool's Culture year and initiated the UK City of Culture scheme on the back of Liverpool's success.
He believes putting on "big ticket, high exposure" events regularly will boost tourism and in turn, the economy.
"Culture is the sum of everything we do. Culture is the sum of all our creativity. Culture lays the foundations to build the tourism industry.
"If you put on a big event, if you put on a big attraction, you bring in hundreds of thousands of people into the city and it's the hundreds and thousands of people who bring the cash and cash is the real fuel of regeneration."
But when the City of Culture curtain finally comes down, will the light shows, giant artworks and star-studded festivals be a catalyst for permanent change?