Lincolnshire factory to make 'coal' from food waste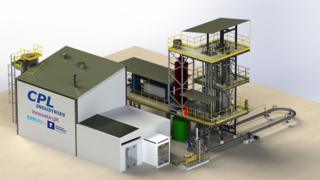 Leftover food and garden waste is to be made into a fuel similar to coal at a factory being built in Lincolnshire.
The site at Immingham Docks will take the waste, add water and heat it under pressure in a process known as hydrothermal carbonisation (HTC).
After a few hours a black sludge is formed which is then shaped into pellets and left to dry.
The company that invented the process says the so-called biocoal is carbon neutral.
More on this and other Lincolnshire stories
The £4m facility will be the first commercial producer of biocoal in the UK and is a partnership between the University of Nottingham and Sheffield-based smokeless fuels producer CPL Industries.
Jason Sutton from CPL industries said the firm planned to build similar plants across the UK.
"There is over four million tonnes of food waste every year that ends up in landfill," he said.
"Using it to heat homes and schools going forward is really powerful."
Colin Snape from the University of Nottingham said the HTC process mimics the natural way that coal is made, which takes thousands of years.
"Essentially what you get is a solid product," Prof Snape said.
"It does look like coal and it's got many similar characteristics.
"So wherever coal is used, or wherever traditional charcoal is used, biocoal can easily substitute."
The Immingham plant will open in spring next year.