Charity criticises handouts to Hull's rough sleepers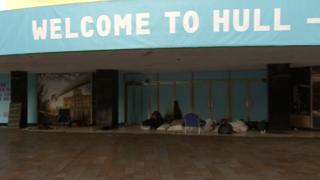 A homeless charity has criticised the public for giving money, food and clothing to rough sleepers in Hull.
Hull Homeless and Rootless Project (HARP) claimed "people choosing to live like this are making small fortunes from passers-by".
It also called on the council to issue prohibition orders to clear groups of homeless people off the street.
One woman who said she often gave food and clothes to rough sleepers said it was people's "freedom of choice."
More on this and other Hull stories
"I just don't think anybody really wants to be out in all the weathers that they are out in," she said.
"I just think well I'm doing what I feel is the right thing to do and if they're cheating then that's their problem not my problem."
Sandy Smith chair of Hull HARP said she had witnessed "well-meaning people" giving brand new clothing, sleeping bags and other items to the homeless.
What are the best ways of helping homeless people?
"Within 20 minutes of that person leaving, that stuff had gone and been sold, " she said.
"I just think it's unfair to the people who are really caring and are trying to help to be ripped off in that fashion."
Ms Smith, who has worked with the homeless for more than 35 years, said that some people had left hostels to sleep on the streets as it is a "lucrative spot".
"When you are drug dependant, which most of them are, then that's a big pull," she said.
"So they're getting a lot of money. They're not having to take any responsibility for themselves because they are being fed."
A report published on Wednesday by MPs sitting on the Public Accounts Committee described the homelessness problem in England as "national crisis" and that the government's attitude to tackling it as "unacceptably complacent".