Improved flood protection for Hull and Humber Estuary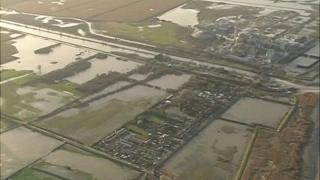 New defences are to be built to protect more than 100,000 properties at risk of flooding around the Humber Estuary.
Work starting next year will see a £42m upgrade to a 10-mile (19km) stretch of the north Humber bank.
It follows the 2013 tidal surge when the city's defences were overtopped after water levels in the estuary peaked to the highest ever seen.
Environment consultants working on the project said Hull was the "largest at-risk urban area outside of London".
Protected areas will include hundreds of water front homes on Hull's Victoria Dock.
Gordon Rason, chairman of Victoria Dock Residents' Association, said it was important to better protect the area given the work done around the city of culture.
As part of the project, which is being funded by the Environment Agency, there will also be new and raised tidal defences on either side of the city in the East Riding, at Hessle and Paull.
Rachel Glosson, from Hull City Council, said the authority had been pushing for extra investment to ensure it was "one step ahead" in considering the impact of climate change.
She said: "It shows a real commitment to the city to enable it to grow."