Laura Plummer: Prison transfer hope for jailed smuggler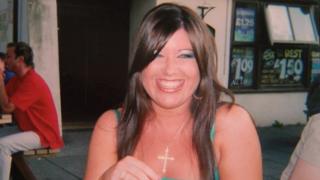 The Foreign Office has said it is hoping to secure a prison transfer for a British woman convicted of smuggling banned painkiller tablets into Egypt.
Laura Plummer, 33, was jailed for three years after being caught taking almost 300 Tramadol tablets into the country.
Her family said she is being held in a notorious prison in Qena and have raised concerns for her safety.
Foreign Office Minister Alistair Burt, however, said he was hopeful of arranging a prison transfer.
He told the BBC: "If something is possible then I know that we will be doing our best to make sure that both justice is served but also that the UK citizen's interests are supported as best as possible, and, if a movement is possible then I hope that may happen.
"We can't make all the decisions, it's not a matter of the UK government going to another and saying somebody is British therefore X, Y and Z, must happen, but if there is something that can be done to assist a UK citizen it will be done."
Plummer, from Hull, was arrested on 9 October when she was found with the Tramadol tablets in her suitcase after arriving at the Red Sea resort of Hurghada.
Tramadol - a strong painkiller used to treat moderate to severe pain - is a banned substance in Egypt though is available on prescription in the UK.
She claimed she had taken the tablets to give to her partner Omar Caboo to treat his back pain and has previously said she had "no idea" the tablets were illegal.
Commenting on Plummer's transfer her sister Rachel said: "No prisons are nice but I think Qena's the bad one."