Hull taxi driver Melissa Ede wins £4m on lottery scratchcard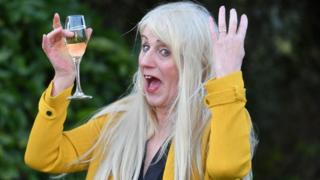 A taxi driver and transgender rights campaigner, well-known for her online videos and TV appearances, has won £4m on a lottery scratchcard.
Melissa Ede, 57, from Hull, bought the winning card when she stopped for petrol on her way to work on Saturday evening.
Miss Ede, a transgender woman, has thousands of followers on social media.
She said she had since quit her job, making it the first time in 25 years she had not worked over New Year.
More on this and other stories from across East Yorkshire and Lincolnshire
Speaking at a news conference, she said: "It is just unbelievable. This is something that only ever happens to other people."
Miss Ede said the £10 National Lottery scratchcard "just caught my eye" and she bought it with change from her petrol purchase.
She said she immediately ran back into the garage shouting: "You've just given me £4m - 2018 is going to be the best year ever."
Top of her shopping list are a new Audi car, a home of her own and a "dream wedding".
She said she wanted to concentrate on helping others experiencing gender challenges and to write her autobiography.
"The transgender fight to where I am now has been a very difficult path," she said.
"I received my operation almost seven years ago and I am really proud of who I am today.
"I now want to help others in similar situations and believe my autobiography will do just this."
Miss Ede is famous for posting online videos of herself, mostly featuring her singing and dancing in skimpy outfits.
She once appeared on TV court show Judge Rinder and last year set up a GoFundMe page to pay for dentures, stating that her teeth had been ruined by "hormones and violence".
She was also one of 200,000 applicants for a one-way space mission to Mars.