Town clerk Katy Fowler jailed for stealing from employers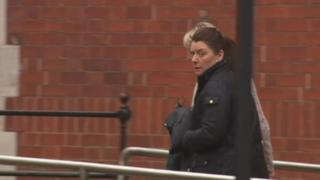 A town clerk who stole more than £20,000 from her employers has been jailed for eight months.
Katy Fowler, 44, admitted stealing from Crowle and Ealand Town Council in North Lincolnshire over a four-year period.
Grimsby Crown Court heard she took money from a variety of council funds, including grants, and money from a member of the public for a burial plot.
She also stole £1,500 allocated to a local cricket club and a further £2,500 of funding for a park.
Fowler was fired at the end of March 2017 when councillors became suspicious of the amount she claimed was being used to pay for CCTV.
In mitigation, the court heard she stole the money after her husband was diagnosed with cancer.
'Sorry state of affairs'
Sentencing her, Judge Mark Bury said: "Your husband was diagnosed with cancer leaving your family short of money... and emotional support."
However, he said a custodial sentence was his only option "regardless of personal circumstances".
Fowler, of Cranidge Close, Crowle, pleaded guilty to a charge of theft by an employee, at a hearing on 2 January.
Speaking about the case, Crowle and Ealand mayor Debra Middleton said it would have a lasting impact on council finances and the local community.
"We will be pleased to put this sad and sorry state of affairs behind us," she said.
The council warned that it would either have to increase its council tax precept or cut services as a result of the theft, due to a likely rise in insurance premiums.
To date, Fowler has paid back £3,000 of the £23,428 she stole.