Shane Gilmer identified as man killed in Southburn crossbow attack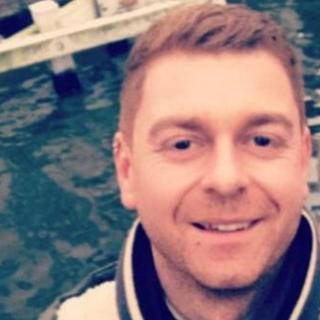 A crossbow was recovered from a house where a man was fatally wounded and his pregnant girlfriend injured, police have confirmed.
Shane Gilmer, 30, was found at his home at Southburn, near Driffield, along with Laura Sugden on Friday evening.
He died in hospital on Saturday. Ms Sugden's injuries are not life-threatening.
Police are urgently seeking Anthony Lawrence in connection with the death.
Ch Supt Judi Heaton said Mr Lawrence, 55, is also known as Tony Howarth and was the couple's neighbour.
He is described as 5ft 10in (1.78m) tall, balding, with close cropped dark hair and of a large build.
"We do not believe that Lawrence is a threat to the wider public. This was an isolated incident and he was known to Shane and Laura - they were neighbours," Ch Supt Heaton said.
"However, we do not know how he will react if challenged, so do not approach him."
Ch Supt Heaton also confirmed a crossbow had been recovered at the scene of the attack.
"We are forensically examining that to establish if it is connected to the incident.
"It may well be," she added.
Police were called to Mr Gilmer's home at about 21:20 GMT on Friday following reports of a disturbance where they found him and Miss Sugden seriously injured.
A police cordon has been in place around the village since Friday whilst officers have searched for Mr Lawrence using dog units and a police helicopter.
Ch Supt Heaton said: "We still have teams in the Southburn area and they will be remaining in that area for the next few days, both as part of the investigation and to provide reassurance for those living and working there."