Hull window cleaner saves defaced Banksy mural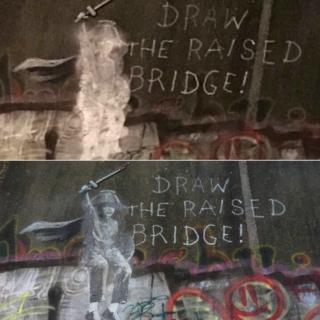 A defaced mural by the graffiti artist Banksy on a disused bridge in Hull has been saved by a window cleaner.
The stencilled design depicts a child carrying a wooden sword with a pencil attached to the end, under the text "draw the raised bridge!"
The mural on Scott Street, Wincolmlee, was whitewashed on Sunday night but Jason Fanthorpe used water and white spirit to partly restore the image.
Hull City Council has since installed a large protective cover over the work.
Mr Fanthorpe said he "could not just sit back and not try to help" after seeing the mural had been damaged.
"I was just going to bed when I'd seen that it had been painted over, and someone had said it was still wet," he said.
"Banksy, love him or hate him, has international prestige and he'd gifted the city with his art."
The window cleaner already had his ladders and other equipment prepared for his Monday morning shift, so he headed straight to the bridge in an attempt to save the mural.
He said: "I tried with just pure water at first, on one tiny corner, desperate not to destroy the underlying art. But it was not shifting so had to use white spirit."
A number of people also turned up overnight to help with the cleaning, Mr Fanthorpe added.
A steady stream of people have been visiting the street to take photos of the mural after images of it were shared on Banksy's verified Instagram account on Friday.
Hull City Council said the protective layer has been added "to prevent further damage".
"This temporary measure will help to ensure that the public can continue to enjoy the work," a spokesperson said.
Staff at the Whalebone pub, yards away from the mural, told the BBC they have met people from Bristol and Manchester who have travelled to Hull specifically to see the artwork.
Chris Fenton went to the site earlier after hearing about the damage.
"Why would someone do that? What was the reason," he said.
"All the excitement it brought to the city over the weekend and someone does that."