Plan to ban cyclists from road 'deeply concerning'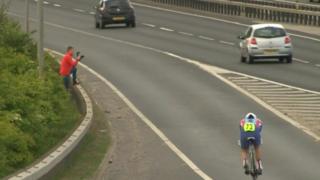 A plan to ban cyclists from a stretch of road in East Yorkshire has been described as "deeply concerning" by the sport's governing body.
Highways England has applied for a Traffic Regulation Order to stop cyclists using the A63 between Hull and North Cave over safety concerns.
The agency said it is seeking the ban "in the interests of road safety".
The road forms part of a time trial course, which has attracted cyclists such as Sir Bradley Wiggins.
More on this and other East Yorkshire stories
British Cycling and local tourist organisation Welcome to Yorkshire have made an official objection to the proposed ban claiming any restriction would "set an extremely dangerous precedent."
Highways England said there had been six accidents involving cyclists in the past five years, including one fatal collision.
British Cycling chief executive officer, Julie Harrington, said: "We believe that this response is disproportionate given the small number of collisions involving cyclists on this route, especially when there far more incidents involving just cars."
She added that any ban "directly contradicts the government's Cycling and Walking Investment Strategy (which seeks to double the number of trips cycled by 2026) and Highways England's own Cycling Strategy."
Highways England's Emergency Planning Manager Andrew Charnick said: "The safety of everyone who uses our roads is our highest priority.
"The A63 is a busy road and a large number of HGVs leave the docks and use the route to join the M62. There are alternative, safer routes available for cyclists."
Humberside Police is backing the application.
PC Darren Storr, from the force's Traffic Management Unit, said the stretch of road was "not deemed to be a safe and appropriate environment for such activities to take place".
A similar ban also exists on stretches of the A19 in Teesside.