Train services between London and Hull disrupted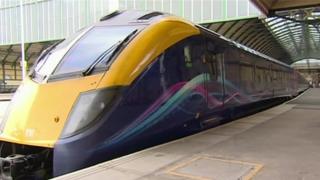 Rail services between Hull and London have been disrupted following technical problems with a number of trains.
Hull Trains said "isolated and unrelated faults" had caused cancellations or delayed more than half of its scheduled services on Wednesday.
The company has cancelled 34 out of its 441 services since the start of the year.
Managing Director Will Dunnett has apologised to passengers, saying the episode was "deeply disappointing".
More on this and other Hull stories
The company's chief engineer, Jon Plowright, insisted it did get passengers to their destination even if that did sometimes mean using alternative forms of transport such as buses.
He said: "We will get you there.
"Unfortunately we are sometimes delayed and you need to take that into account when you are booking your tickets."
Figures from independent regulator the Office of Rail and Road (ORR) show that Hull Trains had the second worst reliability record of all train operators.
According to the ORR, more than 10% of its services were cancelled or seriously delayed during the last two months of 2017.
Railway journalist Philip Haigh said the firm's trains were usually reliable, but it was "in a bit of a sticky situation at the moment".
"Hull Trains has a very, very small fleet, so when something goes wrong with one of its trains it cannot do very much in terms of a fallback position," said Mr Haigh.
In December, the train bringing arts minister John Glen to Hull for a City of Culture ceremony was delayed for a number of hours after it broke down near Peterborough.