Plans for £8m veterans' village in East Yorkshire revealed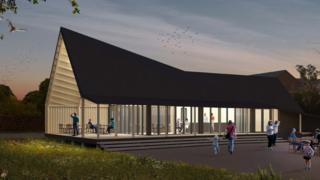 Plans have been revealed to build a special veterans' village for former servicemen and women in East Yorkshire.
The £8m scheme would have 58 single-storey homes, rehabilitation and training sites, and a market garden where residents would grow fruit and vegetables for sale.
The project has been developed by the Hull4Heroes charity and is supported by the region's two local councils.
If approved, the project is expected to open in 2020.
More on this and other East Yorkshire stories
The development would be split across two sites, straddling the border between Hull City Council and the East Riding of Yorkshire Council areas.
The residential scheme on Coronation Road would provide single-storey homes as well as a walled garden, landscaped sensory gardens and growing areas, multi-use games area and a community play area
A second site on Priory Road would contain a visitor centre with a coffee shop and a retail outlet selling produce grown by the residents.
Paul Matson, a former soldier who runs the Hull4Heroes charity, said the village would help service personnel reintegrate after leaving military service.
"When you are in the forces you are conditioned to be a certain type of person," he said.
"Throughout the many years you are in the forces you come out to an alien place, an alien life really an alien community.
"This can only help that and this can only bring those people into a normal life."
Plans for the development will go on display next week.
Hull City Council said that funding for the project would be a mixture of public grants and donations from the private sector.