Hull Labour councillor accused over extreme pornography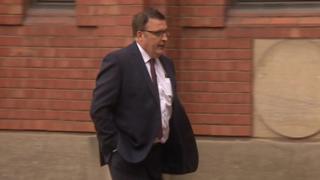 A Hull councillor told police he had looked at extreme pornography online but would not have saved it to his computer, a court has heard.
A police computer expert told the jury at Hull Crown Court that the images were found in a folder named "Despicable" on Steven Bayes' laptop.
He said some of the images had been backed-up to the computer from an iPad.
Mr Bayes, 56, of Prospect Street denies downloading indecent images of children and possessing extreme pornography.
More on this and other Hull stories
Police officers found the images on a laptop owned by the Labour councillor after searching his home, in August 2016.
The court heard the laptop contained nine images and three videos showing abuse of children that were in the most serious Category A level.
There were also three videos in the Category B level and extreme pornography images of of bestiality.
During a police interview read to the court Mr Bayes told officers "he couldn't imagine" who would have put them onto his computer.
He said he had made a folder on his computer called Despicable for "images that were a bit unusual".
He denied putting the extreme pornography into this, and said it was "something he looked at, but wouldn't have saved".
Asked about indecent images of children, Mr Bayes said he had never searched for them and had never saved them on his computer.
Mr Bayes denied having a sexual interest in children and claimed other people had access to the laptop, which was not password-protected.
The trial continues.