Pan-African campaigner Duse Mohamed Ali's Hull honour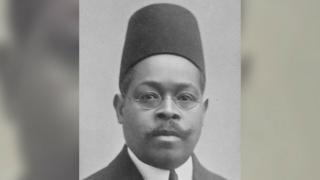 An Egyptian-born actor, journalist and campaigner who founded Hull Shakespeare Society more than a century ago is to be honoured later.
Duse Mohamed Ali lived in the city at the beginning of the 20th Century, becoming a founding member of the society in 1903.
A prominent critic of imperialism, he later relocated to Nigeria.
A plaque in his honour will be unveiled at Hull's Trinity Market by actor Paapa Essiedu.
Essiedu is currently playing Hamlet in the Royal Shakespeare Company's production at Hull New Theatre.
Councillor Mary Glew said it was "fitting" to have a plaque in Market Place as Ali once appeared at the city's old Gaiety Theatre which once stood there.
Although born in Alexandria, Egypt, Ali was educated in England and went on to become an actor touring the country and the USA.
His roles included Othello and the Prince of Morocco in The Merchant of Venice.
Challenged attitudes
According to the Africans In Yorkshire project, he settled in Hull by 1899 when he wrote a letter to the Hull Daily Mail.
He lived in the city for a few years working for a shipping company but continued to perform.
Ali also turned to journalism, writing a number of articles challenging prevailing attitudes against Africans and Asians and went on to establish the African Times and Orient Review.
In the 1920s, he moved to the US and then to Nigeria, where he spent the remainder of his life.
Duse Mohamed Ali
Born in 1866 in Alexandria to an Egyptian father and Sudanese mother
Was educated in England and studied at King's College London
Went on to tour the country as an actor and writer
In 1912, founded the African Times and Orient Review, a pan-Asian and pan-African journal
In 1921, he moved to the US where he worked with the Universal Negro Improvement Association movement
Later settled in Lagos, Nigeria where he was editor of a number of newspapers. He died there in 1945
Source: African Stories in Hull & East Yorkshire