Calls for axed Humberside helicopter fire-at-sea team to be reinstated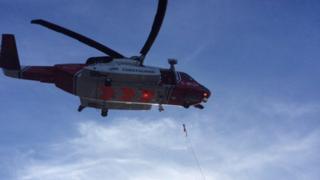 Fire chiefs are calling for the reinstatement of helicopter winch training to enable officers to respond to fires at sea.
The Maritime Coastguard Agency stopped training for fire crews boarding vessels by helicopter in November 2015.
As a result, Humberside Fire and Rescue Service withdrew its fire-at-sea operation early in 2017.
It is now calling on fire and policing minister Nick Hurd to get the training reinstated.
More from north Lincolnshire and East Yorkshire
A Humberside Fire Authority report warned in 2016 that it would "reluctantly" stop attending vessel fires at sea if the position did not change.
Fire chief Chris Blacksell said the withdrawal of winch training meant certificates lapsed and firefighters were unable to attend refresher courses.
The situation meant it was too hazardous for firefighters to board boats, he said.
Mr Blacksell and Beverley and Holderness MP Graham Stuart are meeting with Mr Hurd later - to ask him to initiate a review of the decision to withdraw training.
Mr Stuart added there was a clear need for training to be reinstated due to an increased threat of terrorism, as well as some of the largest ferries in the world sailing in and out of Hull.
Humberside Fire and Rescue Service covered incidents at sea from Norfolk up to Scotland, despite not having a statutory duty to attend.