Failings admitted in Alzheimer's patient Freda Jobson's care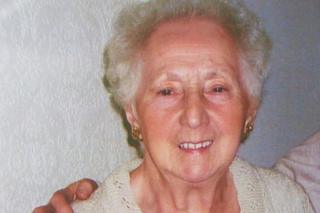 An NHS trust says it "regrets the shortcomings" in the care provided to an elderly woman with Alzheimer's whose family secretly filmed her neglect.
Freda Jobson, 87, was moved out of Keldgate Manor Residential Home in Beverley after three carers were caught on camera mocking her at the home.
Mrs Jobson died on Easter Monday, three years after she left the home.
Humber Teaching NHS Foundation Trust said there were shortcomings in its "district nursing services".
But the trust stressed that it "never owned or ran Keldgate Manor, and was not responsible for the residential care Mrs Jobson received there".
Mrs Jobson's family installed a spy camera disguised as a clock after becoming "suspicious" about her care at the East Yorkshire home where she lived between July 2012 and March 2015.
The footage showed the three women leaning over the great-grandmother laughing and mimicking her groans as she lay in bed.
Tracy Priestley and Sophie Hinchsliff, both from Beverley, and Danielle Snowden, from Hull, all pleaded guilty to ill-treating or wilfully neglecting a person without capacity and were sentenced in April 2016.
Her family said she had pressure sores that "measured 6cm x 3cm and had a depth down to the bone", which had been left to become so bad there was extensive underlying tissue damage.
She also had sores on her toe, elbow and heel.
Hudgell Solicitors, which was instructed by the family to take legal action against Keldgate Manor and the trust, said NHS nurses failed to assess and manage the sores Mrs Jobson developed at the home.
But the care home denied any responsibility for the pressure sores developing, claiming its role was to provide only residential and not nursing care, solicitors said.
Mrs Jobson's daughter, Maddy, said: "My mum was neglected in the worst possible way at Keldgate Manor, both in terms of the staff there taunting her and in the way they let her sores become so bad.
"It was disgusting and although I knew my mother would have hated the idea of being on the television and in the news, I felt people needed to know what had happened and that such poor care needed to be highlighted and challenged.
"I didn't want anybody else's loved ones to be suffering from abuse or neglect."
Mrs Jobson was transferred to the East Riding Community Hospital, in Beverley, which is run by the trust. The family praised staff there for providing her with "fantastic" care and giving "us three more precious years together".
In a statement, the trust offered its "sincere condolences" to the family and said it was determined to "prevent any repetition".