Comedy writer Neil Shand dies aged 84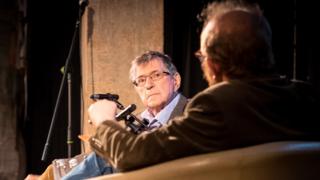 Tributes have been paid to the television comedy writer Neil Shand, who has died at the age of 84.
Mr Shand wrote for a number of comedians throughout the 1960s and 1970s, including David Frost, Spike Milligan, Kenny Everett, Bob Monkhouse, Mike Yarwood and Larry Grayson.
He lived in the village of Winteringham in North Lincolnshire.
Comedy historian Louis Barfe described Mr Shand as the writer of "great, effervescent lines".
Last year, Mr Barfe interviewed him on stage for an event during Hull's City of Culture arts festival.
"He liked a quiet life but at the same time once he was in company he twinkled and sparkled," he said.
"As frail as he was, he was an interesting and charismatic man."
In a Twitter post, Dave Lee who organised the Hull talk described Mr Shand as a "huge talent".
Born in Luton, Mr Shand started work as journalist on a local newspaper before making a move to Fleet Street reporting for the Daily Express and the Daily Sketch.
He moved into television as a writer for David Frost's various BBC satire shows in the 1960s.
Mr Barfe said he excelled as a topical gag writer.
"He was David Frost's right-hand man for 25 years. When David went to New York, he took Neil with him," he said.
"He also did the serious interviews with Frost as he was originally a journalist. As a comedy writer, I think Neil never lost that journalistic edge."
In the 1970s he co-wrote and script edited Spike Milligan's "Q" series, as well as working on big Saturday night entertainment shows with Bob Monkhouse and impressionist Mike Yarwood.
Mr Barfe described him as a "sheer delight to be around".
"He had been everywhere and worked with everyone and had the stories to tell. The stories would just come out and one would lead to another."