Farm workers sacked after video shows abuse of pigs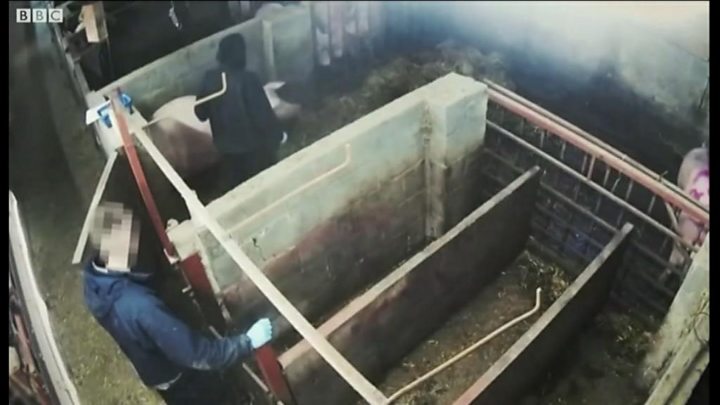 Four workers have been sacked after film footage appeared to show pigs being abused on a farm.
Video of the men hitting the animals and poking them with pitchforks was captured on hidden cameras installed by charity Animal Equality UK at Fir Tree Farm in North Lincolnshire.
The farm owners said they were "shocked by the actions of those involved".
They said the men were dismissed after an investigation and the incident was reported to the police and the RSPCA.
More on this and other Lincolnshire stories
Animal Equality said it was alerted to the abuse by an anonymous tip-off.
Chief executive Toni Shephard said the sacked workers had shown "complete contempt really for the animals in their care".
"Even though we were expecting to find cruelty, we were really shocked at the level of violence being inflicted on these pigs by multiple staff members," she said.
"The worst treatment really was of an animal who came in and clearly couldn't walk and yet this animal was still subjected to kicking and being slammed by a metal gate."
'Deeply upsetting'
The Godfrey family, who own the farm near Elsham, said "abhorrent behaviour does not represent our business".
Its statement added: "We understand that people will be shocked by these images and like them, this has been both a shocking and deeply upsetting time for us and the rest of our team.
"The behaviour depicted in the footage is contrary to the standards and ethics that are the foundation of our business."