Couple found guilty of killing homeless man in Grimsby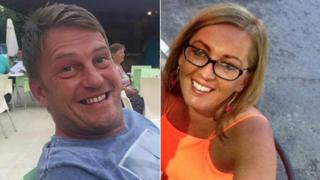 A couple have been found guilty of the manslaughter of a homeless man who was killed in a revenge attack.
Tony Richardson, 45, died in hospital after he was assaulted outside a bank in Old Market Place, Grimsby, on 15 January.
The jury heard Marc Finnie, 44, carried out the attack at the request of his security guard wife Sarah Finnie, 36.
The couple were cleared of murder by a jury at Sheffield Crown Court, but convicted of manslaughter.
The Finnies, of Sutcliffe Avenue, Grimsby, will be sentenced on Friday.
The court heard Sarah Finnie was upset at comments Mr Richardson had made about her after he was thrown out of the shop where she worked.
Jurors were told that she reported a suspicious person on a nearby street to a colleague operating a CCTV system, in order to direct the camera away from the scene of the attack on Mr Richardson.
The Crown Prosecution Service said Marc Finnie carried out a "ferocious attack on his defenceless victim, kneeing him in the face with such force his head bounced off a plate glass window, following up with two further savage blows of the fist to his head, which smashed his head against the pavement".
The attack caused serious internal head injuries and Mr Richardson died the following morning in hospital.
A 35-year-old Grimsby man was acquitted of assisting an offender.