Grimsby couple jailed for revenge killing of homeless man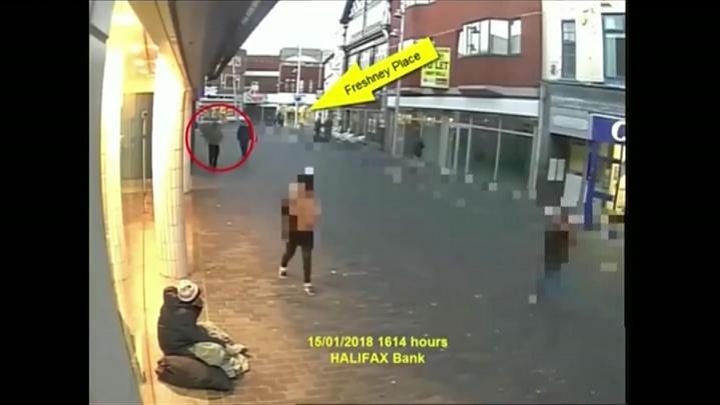 A couple have been jailed for the manslaughter of a homeless man in a "vicious" revenge attack.
Tony Richardson, 45, died a day after he was punched and kneed in the head in a Grimsby street by Marc Finnie.
The 44-year-old was sentenced to eight years and his wife, Sarah Finnie, 36, was given a seven-year jail term.
Sheffield Crown Court heard Finnie attacked Mr Richardson at the request of his wife, who was upset about comments and gestures made towards her.
Mrs Finnie was a security guard at Freshney Place shopping centre and the victim had been thrown out of the retail premises on the day of the attack, on 15 January.
Jurors were told she reported a suspicious person on a nearby street to a colleague operating a CCTV system in order to direct the camera away from the scene, outside a bank in the town's Old Market Place.
The couple, of Sutcliffe Avenue, Grimsby, were both cleared of murder but convicted of manslaughter following a trial.
Judge Mr Justice Goss described the attack as "short lived but vicious" and told Mr Finnie: "All three blows were delivered with as much force as you could muster.
"You delivered full force blows... you clearly intended significant harm.
"This was an offence quite close to murder in culpability."
'No genuine remorse'
The judge added: "You, Sarah Finnie, lied in interviews with the police and to the jury in your evidence."
He said she had shown "no genuine remorse" for their actions.
The Crown Prosecution Service described the attack as "ferocious".
Police said Mr Richardson had "verbally abused and intimidated" the security guard over a long period of time leading the couple to take "the law into their own hands".
In a statement, the victim's family described him as a "popular and harmless" figure who "suffered with drug and alcohol addiction for many years".
"He could on occasion be verbally abusive and cause upset but he was not an aggressive or violent man," they added.