Hull College Group job staff plan further strikes over job cuts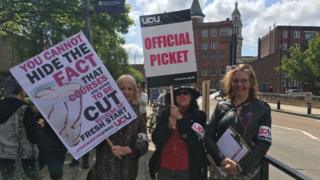 Staff at three Yorkshire colleges are to stage a further seven days of industrial action in a row over plans to axe 231 jobs.
Hull College Group, which runs colleges in Hull, Goole and Harrogate, has begun a restructuring plan to deal with a £10m deficit.
The strike, which is planned to start 18 June, follows a three-day walk out last month by University and College Union (UCU) members.
The college said it was "disappointed".
UCU members plan to walk out for five days starting 18 June and then again for another two days on 26 and 27 June, amid students sitting their GCSE exams.
The union said there had "not been sufficient progress in talks" and hoped the fresh strike dates would "focus their employers' minds" over proposals to cut a third of the workforce.
Julie Kelley, from the UCU, said its members felt "they have no choice now but to take further action".
"Strike action is never taken lightly, but the college is not responding to our concerns about the impact these cuts would have for staff, students and the local community.
"We urge the college to respond positively and work with us to explore alternatives to the cuts."
In a statement, Hull College Group said if the further strike action was to go ahead it would "do everything possible to avoid the obvious disruption to the important GCSE exams taking place".
"It is disappointing and unclear why this decision has been taken, following recent positive meetings outlining the successful reduction of proposed compulsory redundancies."
In April the union called for the resignation of the college's chief executive, Michelle Swithenbank, over allegations against the management team of "attempted bullying and bribery" to deter staff from attending "a protest against the running of the college".
But the college denied the allegations and said it had "absolute confidence in Michelle and the leadership team".