Aunt Bessie's: Frozen food firm to be sold in £210m deal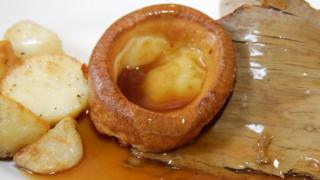 Frozen food brand Aunt Bessie's will be sold to Birds Eye owner Nomad Foods in a deal worth £210m.
Nomad Foods, which also owns Findus and Goodfella's, has agreed to buy the company from Yorkshire-based group William Jackson.
The deal, which is expected to be completed in the third quarter of 2018, is set to include its factory in Hull.
Nomad Foods said that the deal would help it get a foothold in the roast dinner market.
More on this story and others in East Yorkshire
The factory, on Freightliner Road, produces 500 million frozen Yorkshire puddings a year and employs about 350 people.
All staff are expected to join the company through the acquisition.
Noam Gottesman, Nomad Foods' co-chairman, said: "We look forward to welcoming the Aunt Bessie's team to our organisation and working together to build on their success."