Driver baffled by keyless BMW steering wheel theft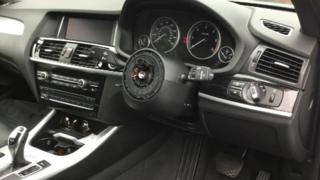 A man is calling on manufacturers to improve security after the steering wheel of his car was stolen from his locked vehicle.
Paul Fielder, from Hull in East Yorkshire, discovered the theft from his £45,000 BMW X3 when he left his house to go to work.
The car parked on his drive had been broken into, despite the keys being inside the house.
RAC Insurance said it was aware of a "spate" of similar thefts.
More on this and other East Yorkshire stories
Mr Fielder said when he reported the crime at his local police station officers said the type of theft was "occurring quite frequently".
"I couldn't get my head around it," said Mr Fielder.
"Because there was no window smashed, there was no marks on the car and the car was looking fine.
"So I couldn't work out how somebody had broken into the car."
Simon Williams from the RAC said criminals sometimes used technology to steal the data on key fobs through the wall of the owner's house.
"Often these steering wheels are being sold for around £1,500," he said.
"But the damage to the motorist's vehicle is obviously far greater and the cost of putting it right can go into the thousands and obviously will have a lasting effect on the person's insurance going forwards."
Mr Fielder said car manufacturers needed to improve security measures.
"I think industry wide there's a problem, they need to recognise it. Clearly there's a problem when if your keys are inside your house it's not safe," he said.
The BBC has contacted BMW for a comment.