Banksy's Hull bridge mural 'to be moved' ahead of works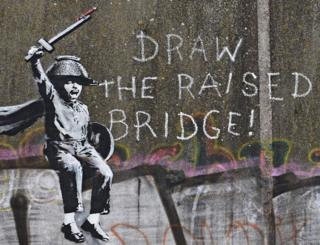 A Banksy mural on a Hull bridge will be moved into storage ahead of urgent works after a survey found the structure to be a hazard.
The mural on the disused raised bridge in Scott Street attracted hundreds of visitors after it appeared in January.
Hull City Council said it would be stored "until it can be relocated adjacent to the original site".
While there is "no risk to the public", the Grade II listed bridge is a danger to shipping and will be removed.
More on this and other Hull stories
Banksy's stencilled design depicts a child wielding a wooden sword with a pencil attached to the end. Next to it is a caption that reads: "Draw the raised bridge!"
Within days of its appearance, the artwork was defaced but then later saved by a window cleaner. A protective screen was then put over it by the authority.
Scott Street Bridge has been permanently raised since it closed to vehicles in 1995.
Council officials said both sides of the bridge had to be removed otherwise it would "result in the closure" of the River Hull.
Councillor Daren Hale said: "It is absolutely heartbreaking that we must take this course of action.
"The council has kept the bridge in place for as long as practically possible, but we have been advised that this is the only way to keep river traffic safe.
"Since it was revealed that the artwork on the bridge is a Banksy, visitors have flocked to the site to appreciate this unique piece of work and a lively street art culture has grown up around it."
Mr Hale said the authority would hold talks with local arts groups on how the artwork should be redisplayed.
The work is expected to take up to six months.