Scunthorpe-based British Steel announce £50m mill investment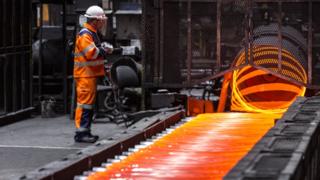 British Steel has announced a £50m upgrade of its Scunthorpe rod mill.
The company, based in the North Lincolnshire town, said it was the "biggest single investment in its manufacturing operations for a decade".
Work at the Scunthorpe site is due to start this summer and the new operation is set to be ready by autumn 2019, the company said.
It is also investing a further £40m across the business.
More news from East Yorkshire and northern Lincolnshire
The business was purchased off Tata in 2016 for £1 by Greybull, a UK-based investment firm, and renamed British Steel.
British Steel executive chairman Roland Junck said: "Our order book is strong and we've the capacity and capability to play a significant role in major infrastructure projects such as HS2 and the Heathrow expansion."
However, increased raw material costs and fluctuating steel prices were a challenge, he said.
Mr Junck also called for action to prevent the dumping of cheap steel into Europe following steel tariffs imposed by the United States.
Paul McBean, the multi-union chairman at the Scunthorpe site, said: "The rod mill investment is a fantastic second birthday present for British Steel.
"While we still have a long way to go, investments of this scale demonstrate the great optimism flowing through this company."
British Steel also has sites in Cumbria, North Yorkshire, Teesside and France.
The firm produces more than 2.8 million tonnes of steel each year.