Picnic protest over Scunthorpe school party ban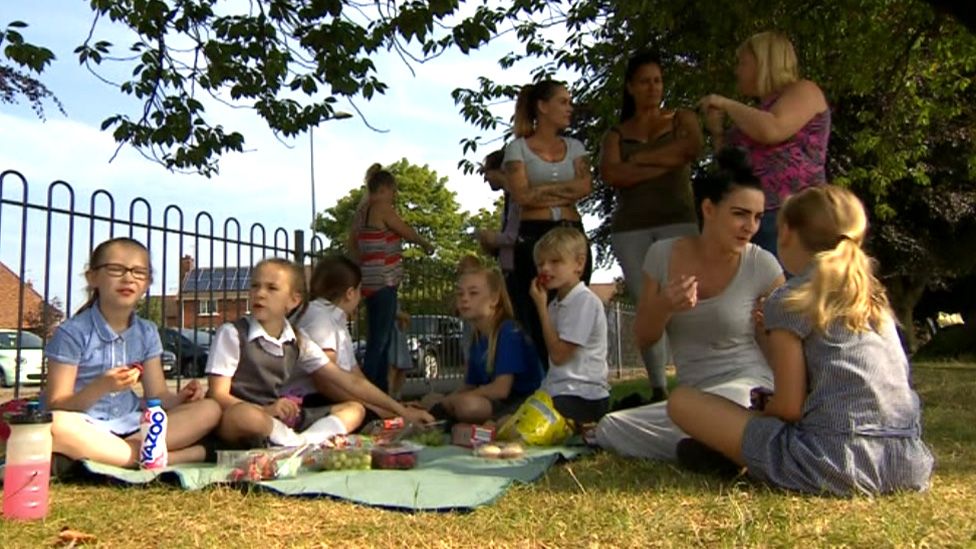 Parents and pupils held a picnic protest after some students without a 100% attendance record were banned from a school's end of year garden party.
Parent Clair Threadgold claimed the children were "treated unfairly" as many had missed school due to illness.
The silent protest was held in a park next to Lincoln Gardens Primary School in Scunthorpe.
The school said the party was organised to "promote good attendance and reduce school absences."
Ms Threadgold said her daughter had missed school due to throat surgery.
"She was quite tearful," she said
"In all honestly she was very confused, she was questioning what she'd done wrong.
"She seemed a little bit flummoxed by the fact that [having] tonsil surgery would be something that was classed as negative behaviour."
Parents said the students would be placed in a classroom while the other children attended the garden party.
Ellie, aged nine, has missed school to attend hospital appointments for her hearing problems.
"I felt really sad and really embarrassed because I'm worried that people will make fun of me because I'm not going to the garden party and I haven't got a 100% attendance."
Ellie's mother Louise Lowbridge said she was not against rewarding good attendance but objected to "the way it's been done".
"Because these children who haven't gone just feel like they've been naughty," she said.
"They haven't been naughty, they've just been poorly."
In a statement, the school said: "We reward pupils who have achieved an outstanding 100% attendance at intervals throughout the year.
"This is part of our duty to promote good attendance and reduce school absences.
"We are sorry to see that some parents don't agree with this policy, but we believe good attendance is something to be celebrated and rewarded."
Related Internet Links
The BBC is not responsible for the content of external sites.