Legal action over Siemens' Goole Tube trains contract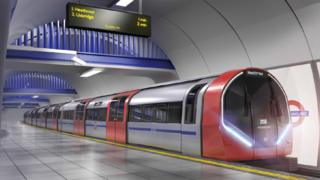 A legal challenge over plans to build London Underground trains at a new £200m Siemens factory in Goole has been started by rival firms.
In June it was announced the £1.5bn contract would go to the firm in East Yorkshire.
But now Bombardier and Hitachi have issued claims at the High Court over the awarding of the contract.
The Mayor of Goole Richard Walker said the legal move was "a real shock and massive disappointment".
On 15 June Transport for London (TfL) said the 94 trains would be designed and built by Siemens Mobility in Goole.
The new trains are expected to start running on the Piccadilly Line from 2023.
But on Friday it emerged rival bidders Hitachi Rail and Bombardier Transportation had initiated legal action over the TfL decision not to select their consortium for the scheme.
Mr Walker said: "It's a massive shock. We thought this was all certain.
"We had the transport minister up here even before it was given the go ahead, so you thought it was alright.
"It's like we've gone backwards to how we were before Siemens won it."
He said the contract "means so much to the town".
"For it to be thrown up in the air like this is a real shock and a massive disappointment."
In a statement, Siemens Mobility Limited said: "We believe our offer represents a strong and innovative solution combined with value for money for the UK taxpayer."
When the decision was announced in June, Bombardier's Managing Director Richard Hunter said he was "very disappointed" and would be seeking formal feedback on why their bid had failed.
Work has yet to start on the new train factory which is planned for a 67-acre site close to the M62.
There were thought to be employment opportunities for 700 people at the site.