Bridlington Police Station gay pride flag cut down by vandals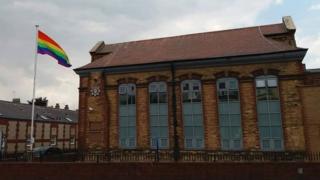 An anonymous group has cut down a gay pride flag which had been flying outside a police station.
The vandals sent an email claiming responsibility for damaging the rainbow flag at Bridlington Police Station in East Yorkshire.
The email, which was sent to Humberside Police and Bridlington's MP, criticised police for supporting "fringe groups".
Andy Train, chair of the Hull and East Riding LGBT Forum, said those who sent the email were "evil, sad and bigoted".
In the email the group, which calls itself "Men of Bridlington", said the flag was "offensive" and threatened to remove it if it was put back up.
Yorkshire breaking news: Animal render farm 'smells like death'; Brewery boss fined over pension scheme
Humberside Police said it was investigating the incident as a hate crime.
The region's Police and Crime Commissioner Keith Hunter, who was also sent the email, described those responsible as "morons".
The flag was put up outside the police station on 19 July ahead of Hull Pride "to show the Humberside Police's support for the LGBT community", the force tweeted at the time.
It was vandalised overnight and in the early hours of Sunday an email claiming responsibility was sent to a number of people including Mr Train, Bridlington's MP Sir Greg Knight and the Chief Constable of Humberside Police.
Mr Train said the content of the message was "shocking".
He said: "It's as if you had some bigot from the 1950s and planted them in Bridlington.
"It's a hate crime, I've been told that by Humberside Police, it is just evil and sad and bigoted.
"We had been on such a wave of euphoria after Hull Pride attracted 50,000 people but this shows there's still a lot of work to be done to create a safe environment to live in."
Mr Hunter said he had been disturbed by the email, describing the views expressed as being "on the extreme of reality".
He said: "Some people will come back and talk about freedom of speech so let me be clear on one thing, freedom of speech does not mean freedom to hate."
Det Ch Insp Matthew Peach said the flag had been due to be taken down today and the force had no plans to replace it.
"We are treating these malicious emails as a hate crime," he added.
"Everyone has the right to be safe and secure and to live free from fear or harassment. Hate incidents or crimes are based on ignorance, prejudice, discrimination and hate and have no place in our society."