Hull tent art installation shows refugee family's journey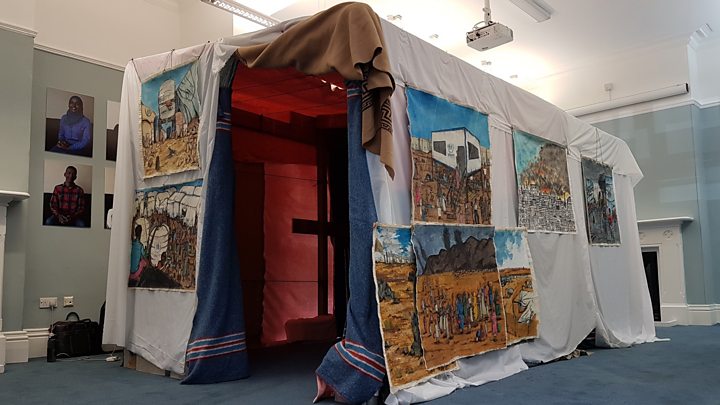 A refugee family has built a replica tent exhibiting their art which portrays the journey from Sudan's war-torn Darfur region to Hull.
The Dirar family spent four years living at a refugee camp in Egypt after fleeing Western Sudan. They resettled in Hull in 2015.
They said they painted as a way of coping with their journey and asylum.
The tent art installation has gone on show in the city as part of the annual Freedom Festival.
Single mother Arafa Hassan Gouda said she and her six children - Mayas, Gaida, Ethar, Amr, Waieel and Akram - had to cross borders in the back of trucks, in cars and on boats before resettling in the city through the government's UN gateway resettlement programme.
Their journey involved crossing Libya and the Mediterranean Sea, including living in cramped conditions in a tent in the Salloum Refugee Camp.
To help her children cope and to boost their spirits, Mrs Gouda organised art workshops and drawing competitions after getting basic drawing materials from aid agencies at the camp.
Ethar Dirar was just 12 when she fled Darfur before arriving at the camp.
"In the camp no-one had an identity," she said. "It was so many things. It was the opposite at the same time - it was home and not home."
Ethar said the artwork was "a lot about escaping to another place".
"The reality at that time wasn't the best place you want to be in," she added.
The exhibition, titled Drawing Time - Our Story, features paintings, poetry and sketches about life in the camp.
It will be held at the Wilberforce Institute for the Study of Slavery and Emancipation.
Mrs Gouda said: "I hope people can have a closer look and feel and understand what a refugee would go through in a refugee camp.
"It's a difficult journey but it also has a positive side."
Mayas Dirar added: "I don't think just the art can let people imagine how [refugees were] living there.
"But I try to let people [see how] we was living and how we was sitting in the camp for a long, long time."
Drawing Time - Our Story runs between 1 August and 9 September.