Warter Priory stately home plan given approval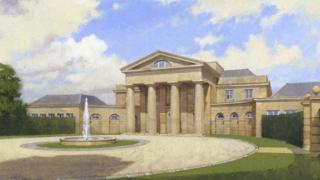 Plans to build a new stately home in East Yorkshire have been approved.
Warter Priory will replace a 17th Century mansion demolished in 1972 on the Warter Estate near Pocklington.
The village and 12,000 acres of land were bought by one of the UK's richest men Malcolm Healey for £48m in 1998.
The planning application said the house and its adjoining buildings are designed to be energy efficient, using ground pumps and solar panels to provide heating and electricity.
More on this and other East Yorkshire stories
Plans also include a lake and landscaping of the the grounds with tree-lined avenues.
The final development is subject to various legal details being agreed.
Mr Healey made his fortune after leaving school at 16 with no qualifications.
He built up the Hygena Kitchens group before selling it for £200m in 1987. He then established a similar operation in America and made a further £800m profit.