Man held after Hull city centre bank blaze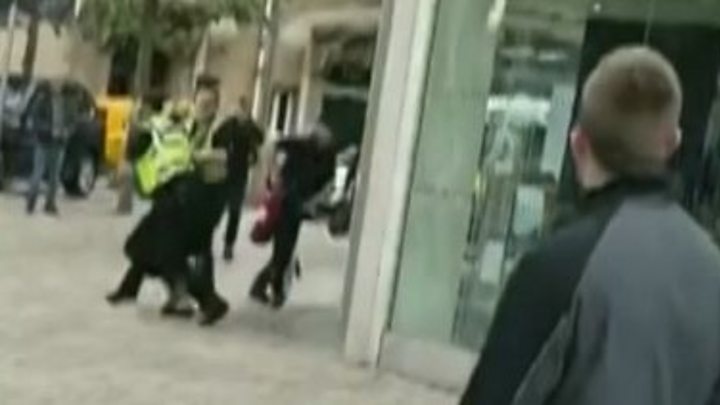 A man has been arrested after part of a city centre was left "in lockdown" when a fire was started at a bank.
An eyewitness described seeing a man wielding a "cleaver" inside Santander in King Edward Street, Hull, at about 13:00 BST before he started a blaze.
Police said a man entered the bank "produced a knife, poured petrol on the floor, which he set alight to, and was demanding money from the bank manager".
A man was held at Paragon Interchange station and remains in custody.
Yorkshire breaking news: Teacher jailed for child abuse; Hotels offer fake views for windowless rooms
BBC employee Sarah Akerman said she saw a man "wafting a butcher's cleaver" inside Santander, before starting a fire in the doorway.
"There was a huge presence of emergency services, it was a complete lockdown," she said.
Ch Supt Phil Ward said: "After about a minute, he ran from that bank across to Barclays Bank where the same incident occurred."
He said three people suffered minor injuries including the detained man.
Ms Akerman said she "heard a lot of shouting and screaming" and described seeing the man run across the street from Santander towards Barclays, before he headed towards the train station.
BBC Radio Humberside presenter Andy Comfort said Santander staff were "visibly distressed".
An area around Santander was cordoned off and people advised to avoid it while investigations continued. A cordon was also placed around the railway station.
Mr Ward said: "We are mindful of the public's concern that these types of incidents may be related to terrorism, however there is nothing to suggest that this is anything other than an isolated incident which has been dealt with promptly by the responding police and emergency services.
"I want to offer reassurance that our priority at all times is the safety of the public."
A Santander spokeswoman said: "Santander is shocked by the attack on its branch in Hull and we are co-operating with the authorities to understand what happened and why."
Rail operator TransPennine Express said the train station remained "open to customers and train services are running as normal", but the ticket office had been shut.