Northern Lincolnshire and Goole NHS Trust stays in special measures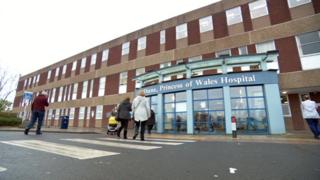 An NHS watchdog has said a trust that runs three hospitals will stay in special measures amid concerns about patient care and staffing levels.
The Northern Lincolnshire and Goole NHS Foundation Trust was given a "requires improvement" rating after May's visit.
The Care Quality Commission (CQC) inspectors said while there had been notable improvement there were "significant concerns" in some areas.
The Trust said it was on track to make improvements and rebuild leadership.
The trust runs Diana, Princess of Wales Hospital in Grimsby, Scunthorpe General Hospital and Goole and District Hospital.
A report following the June 2017 visit by inspectors found two of the hospitals needed to improve the care they offered.
The hospitals in Grimsby and Scunthorpe were then visited unannounced by the CQC.
Inspections in 2016 had led to the hospitals being issued with a warning notice.
'Not enough doctors'
In the latest report Professor Ted Baker, England's Chief Inspector of Hospitals, said while there had been progress there was "scope for further improvement."
The report said: "Inspectors found that the trust did not always have appropriate numbers of staff to ensure patients received safe care and treatment and there were not enough doctors in line with national and professional recommendations in a number of services.
"Our main concern was around the pace of improvement in areas highlighted in previous CQC inspections. For this reason the trust will remain in special measures to ensure the appropriate level of support is given to the trust."
Dr Peter Reading, chief executive of the trust said: "This report shows we are on track and doing the right things in the right way to improve what we do.
"Our staff have been magnificent.
"Since the last inspection they have had to deal with a Trust in double special measures and cope with a couple of really hard and busy winters.
"Their commitment, determination and compassion humbles me on a daily basis."