Victoria Cross hero Harry Blanshard Wood honoured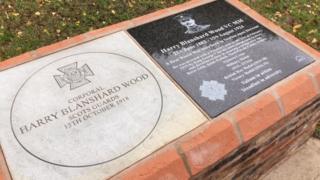 A memorial has been unveiled to a World War One soldier, a century after his bravery saw him win the Victoria Cross.
Harry Blanshard Wood took control of a platoon during the crossing of the River Selle in France in October 1918.
Archives record how Cpl Wood "boldly carried a large brick out into the open space, lay down behind it, and fired continually at enemy snipers".
The Archbishop of York joined villagers to unveil a plinth in Wood's birthplace of Newton upon Derwent, East Yorkshire.
Dr John Sentamu stood alongside dignitaries and services personnel for the ceremony, which was held on the village's only street.
Margaret Horsley, from Newton upon Derwent's local history group, said: "Until recently many people in the village were unaware of Harry's existence.
"This permanent memorial will ensure his bravery on the battlefield will be remembered by future generations."
Wood, who died in 1924 aged 42, was one of only 627 recipients of the Victoria Cross for acts of bravery during World War One (Capt Noel Chavasse won the medal twice).
The award is made to recognise "conspicuous bravery, or some daring or pre-eminent act of valour or self-sacrifice, or extreme devotion to duty in the presence of the enemy".
Latest news and stories from Yorkshire