Bridlington Londesborough pub fire treated as arson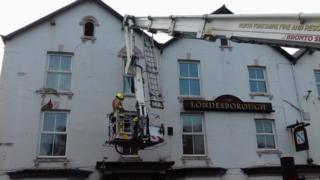 A large fire that partially destroyed a seaside pub is being treated as arson, police have said.
Up to 35 firefighters tackled the blaze at the three-storey Londesborough pub in West Street, Bridlington, on Wednesday.
There were no casualties reported during the fire, Humberside Fire and Rescue Service said.
The "roof and upper floors were completely destroyed" and said the building was unsafe, the service said.
"It may be a few days until the cause and origin are known," a spokesman said.
Work is now being carried out to secure the site with a cordon remaining in place around the building.